Saucony PowerGrid Cortana Product Review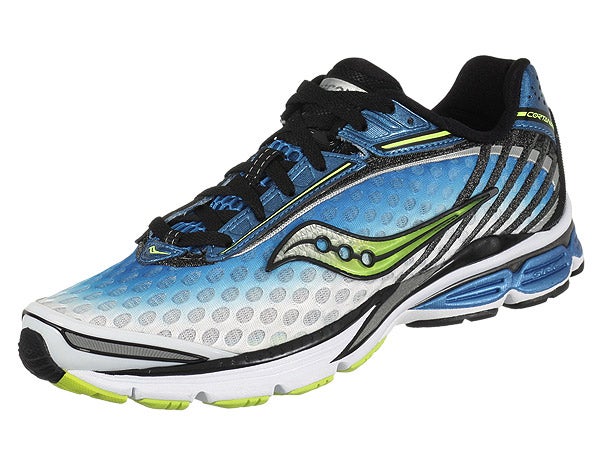 Short Take
A performance trainer with plenty of creature comforts, the Saucony PowerGrid Cortana delivers a light, aggressive ride as you rack up the miles.
Big Features
Max Feature, Low Drop: No other shoe offers so many technologies loaded into a platform with just a 4mm heel-to-toe offset.
Advanced Cushioning: Powergrid with Powerfoam combines the shock dissipating, responsive Powergrid with the new Powerfoam material to create a cushioned and a responsive ride.
Tech-Packed Upper: Various technologies keep the upper breathable, keep your heel firmly in place, and keep your foot securely planted to the platform.
Road Test
The Cortana is a special shoe in many respects. While a lot of max-feature, big-cushion shoes are built on a traditional 12mm offset platform, the Cortana has only a 4mm drop. This makes it the champ in a class of one, but it's a class many runners will want to consider.
Our testers all noted that the Cortana is on the firmer side of the maximum featured shoe spectrum. That's a real benefit for a runner who likes a resilient ride but wants enough cushioning for high-mileage runs. Testers who regularly run in shoes with lower heel-to-toe drops really appreciated being able to stick with an offset they're used to while getting some much-needed cushioning for longer runs.
With all the high-end technology, this shoe has to have a loaded down feel, right? No way – it's amazing how light this shoe feels underfoot. Credit that feel to a mid/outsole that transitions very smoothly and an airy upper that moves effortlessly with your foot. Every tester felt at home in this shoe's upper.
We can envision many runners out there who can use the Cortana as their training shoe and then switch over to shoe like the Saucony Kinvara, Saucony Type A5, Brooks PureConnect or Asics Hyper Speed 5 for speedwork and race day.
Runners Say
"Definitely on the firmer side of the scale for a maximum feature shoe. I like the overall aggressive feel of this package." - Daniel
"The Cortana holds my foot like a glove but still gives me plenty of room. I think a little more flexibility in the rear of the midfoot would improve the ride for runners who strike closer to their heel than forefoot." - Lauren
"When heel striking, I felt like I had a flat tire in this shoe. But then, that's not really the point of the Cortana. For a midfoot strike, the shoe offers a fantastic blend of cushion and responsiveness." - Matt