Saucony Endorphin MD 3 Product Review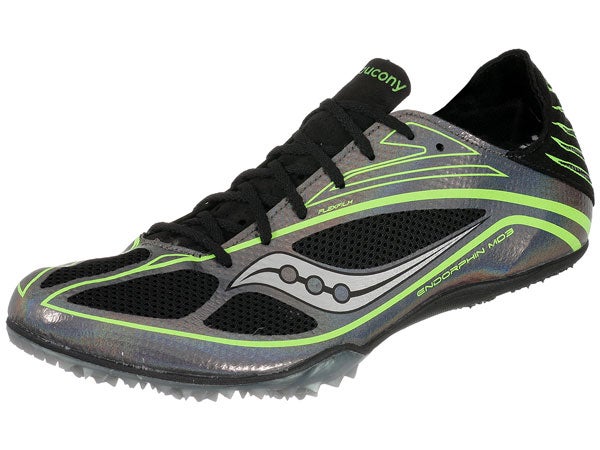 Short Take
Move over Nike Zoom Victory. Saucony Endorphin MD3 is stiff competition that will be on the feet of many mid-distance runners this spring.
Runners Say
"This is a pretty impressive spike by Saucony. The weight is a huge achievement but I give them a lot of credit for the spike plate design too. It's comfortable and really puts you on your toes." - Daniel
"This spike feels more like a 400m spike. The spike plate is a little too rigid for me for anything over 800m." - Jonathan
"The MD3 fits me like a good mid-distance spike should – snug but not too tight, heel cup feels solidly locked in, and no immediately apparent hotspots. Kudos to Saucony for bringing some real competition to this category." - Matt
Big Updates
Way Lighter: The MD3 drops to 3.4 oz from the MD2's 5.0 oz weight (Men's size 9). Saucony achieved weight reduction throughout the shoe, including a new upper with barely-there FlexFilm overlays and the use of SSL (Saucony Super Lite) EVA foam in the midsole.
Redesigned Spike Plate: Saucony added a new Pebax spike plate to the MD3 with improved torsional rigidity, grip and comfort.
Track Test
Well, well, well. Looks like the number of ultra-lightweight middle distance spikes just increased by 100%. The Nike Zoom Victory, introduced over 3 years ago, was pretty darn close to a revelation with its low 3.4 oz weight, snug fit, and aggressive spike plate. Nothing else on the market came close to its light weight...until now.
Enter the Saucony Endorphin MD3. This middle distance spike matches the Victory's 3.4 oz weight thanks to redesigns throughout the shoe. A big part of the weight reduction comes from the upper, which now uses synthetic FlexFilm overlays. The redesigned spike plate is also lighter, while Saucony claims increased torsional rigidity.
Strapping this shoe on, we can attest to the light weight. Heck, you can tell that just by picking them up from the box. But a mid-distance spike has to fit and perform well too. We're divided on the fit of the MD3, with some saying it felt like there was a bit too much wiggle room in the shoe and others finding the fit more comfortable and sock-like than the Zoom Victory. We suspect that runners with a wider foot in particular may prefer the MD3's fit.
What we enjoyed most about this shoe is the redesigned spike plate. The shoe just begs you to get up on your toes and start going fast. The spike placement felt good too.
The bottom line is that before you head out on the track this season for an 800m to 1500m race, the Saucony MD3 deserves a try-on.