Asics Gel Instinct33 Product Review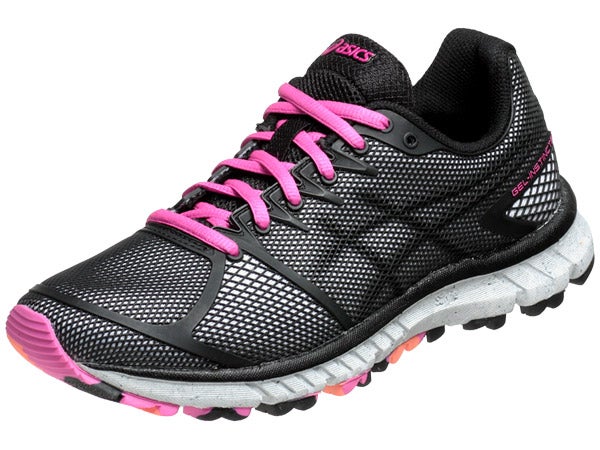 Short Take
Aggressive lugs and a trail-tough upper on the Asics Gel Instinct33 conceal a teddy bear ride that's comfortable on trail and road.
Big Features
Gel Cushioning: Front and rear Gel cushioning units provide reliable shock absorption.
Rubber-Mesh Upper: For extra protection from hazards on the trail, the upper is covered with rubber that resists puncturing.
Trail Lugs: Bi-directional lugs are designed to provide additional grip on climbs and descents.
Road Test
The Instinct33 offers runners sturdy trail protection in a package that's lighter and more forgiving than traditional trail models. Our testers weren't sure what to make of this shoe at first. The Instinct33 uses the midsole of the Gel Speedstar 6 but has a more aggressive outsole and a revised upper. It's certainly more trail-ready than most "trail-ified" road models, but it's not quite dialed in to handle the most technical trails out there either.
This shoe works very well as a "doorstep to trailhead" model that can take you comfortably over asphalt on the way to the dirt and mud. Its deep lugs provide good grip on softer ground and gravel surfaces. The Instinct33 feels flatter than its traditional heel-to-toe drop would suggest, and its wide base net contributes to a stable ride.
The upper of the Instinct33 offers a narrow fit similar to other shoes in the Asics 33 collection. The close fit contributes to the shoe's sporty feel, though a few testers were wishing for maybe just an extra millimeter of height in the toebox. Also, the ring of rubber that circles around the toe of the upper bumped against the toes of one tester, though this was more of an annoyance than a chafing issue.
We liked the protective rubber that covers the upper. Many testers were expecting the shoe to get hot with so much non-breathable material on top and a tight mesh, but the shoe stayed surprisingly cool.
Runners Say
"I didn't expect the amount of room I had in this shoe. It has a good transition and the rubber cage on the upper at least offers something different in the trail segment." - Lauren
"I think of the Instinct33 as a good hybrid shoe that's comfortable on the road and functional on the trail. It's a good choice for fire roads and trails where you're likely to encounter soft ground, gravel and scree." - Jonathan