Merrell Bare Access Product Review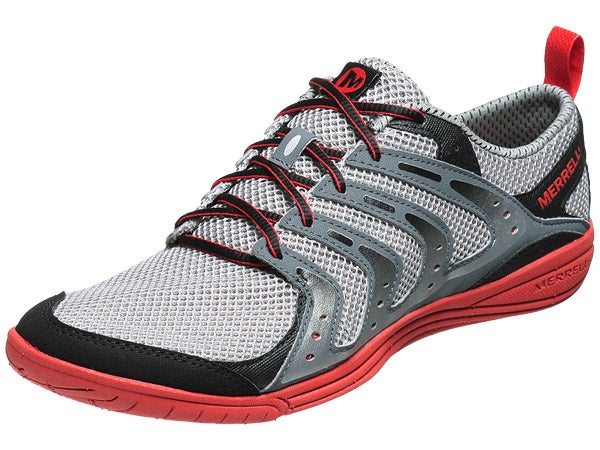 Short Take
Wish Merrell made a near-barefoot shoe for pavement and asphalt? Wish granted: the Merrell Bare Access helps you take the minimal experience on the road.
Big Features
Protective Midsole: Though the Bare Access doesn't offer any cushioning tech, the M Bound midsole provides durable protection from impact forces.
Structured But Light Upper: Synthetic leather overlays support and protect your foot, while the lightweight mesh upper gives you plenty of breathability.
Strategic Vibram: High-wear areas of the outsole get Vibram rubber insets.
Road Test
The Bare Access deserves your attention if you're looking for a minimal shoe that can stand up to the rigors of the road and give you some protection. Our testers found that the shoe performed comfortably on road surfaces and offered a great feel. There's enough impact protection, though if you're running on particularly rough surfaces, expect the outsole to wear quickly. Traction is lacking for softer trails, but the shoe can handle the harder trails found many places in the Western U.S.
This is a zero-drop, no cushion design. Testers found it to be more shoe than truly near-barefoot models like the Trail Glove, Altra Adam and New Balance Minimus 00 line. But anyone running in a more traditional shoe still will need to take time and ease into the Bare Access.
The upper offers a nice fit overall with plenty of room in the toebox to accommodate toe splay and an anchored feeling in the midfoot, thanks to the overlays that wrap your foot securely. Most testers found the heel to be a little loose, but the heel fit didn't cause much slipping because the midfoot is so secure.
The Bare Access offers more arch support than the typical minimal shoe and a smooth, flexible transition from landing to toe-off. Offering zero drop with a protective feel that's just one notch above a near-barefoot shoe, the Bare Access fits a narrow niche but the complete package is engineered well and highly runnable.
Runners Say
"This shoe performs a lot like the Inov-8 f-lite 233, but it's not quite as cushioned. And the 233 is certainly not very cushioned. I like the simple design and the tremendous feel for the ground." - Jonathan
"Much more forgiving than many zero drop models out there. The Bare Access is worth a look for runners who want to take the plunge into 'barefoot' or 'minimal' style running." - Matt