Saucony Endorphin LD3 Product Review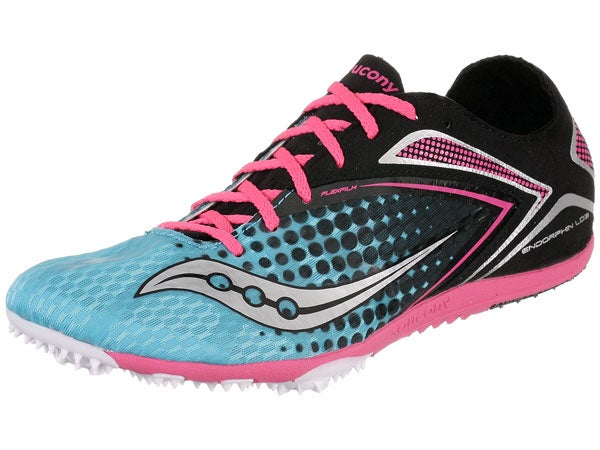 Short Take
Another great long-distance spike from Saucony – now with an even lighter weight and enough visual flash to spark some serious interest.
Runners Say
"The Matumbo has some serious competition now. The fit is great for me and the quality of construction is pretty unbelievable at this price point. The arch is a little low and I wonder if the sock-like upper might slip down in the heel during a race, but those are nitpicks." - Daniel
"Big props to Saucony for getting this shoe right on so many levels. This is a lightweight, durable, and most importantly fast-feeling spike." - Joanna
Big Updates
Lighter Midsole: Saucony switched from CMEVA to SSL (Saucony Super Lite) EVA foam, which helped to shave several tenths of an ounce from the shoe.
Lighter Upper: The upper now features a super lightweight breathable mesh, with FlexFilm overlays to provide structure.
Redesigned Spike Plate: The Pebax spike plate was designed to provide just the right amount of traction without adding unnecessary weight. Looking at the outsole, you can see the cutouts in the plate that keeps it light.
Road Test
We were a little harsh on the prior-gen Saucony Endorphin LD2, not because it was a bad shoe (it certainly wasn't), but because it was boring to the core. An all-white shoe with a plain mesh upper for the top-tier distance runner? Oops.
All is forgiven with the introduction of the Saucony Endorphin LD3, another amazingly lightweight and comfortable distance spike, now with some eye-catching style for athletes who want to show off their fast.
The Endorphin LD3 is Saucony's top end distance spike, competing with the likes of the Nike Zoom Matumbo, Brooks The Wire 2 and the Asics Japan Thunder 4. The light weight (just 3.0 oz for men's size 9) is obviously the talk of the office around here, but we're also impressed with the responsive spike plate and the quality of the upper construction.
In terms of upper fit, the LD3 offers a sock-like fit with a bit more room than a shoe like the Matumbo, but not so much room that you'll be sloshing around when turning a corner. The heel is snug as it should be and is made of a sock-type material that should prevent the uncomfortable Achilles rubbing that can occur in other spikes.
If we had to search for drawbacks, we'd say the arch of the LD3 might be a touch low, and one of our product testers noted that the spike closest to the little toe felt a bit "off." But again, we really had to work at finding a few things not to love about this shoe.
We expect to see the Endorphin LD3 on the feet of many elite distance runners.